We are now stretching the limits of 'Perth' food, but during the ANZAC Long Weekend Mr and Ms Foodie, Marmite and Midnight Oil, Madam Rabbit and Mr Blue (i.e. moi) spent a glorious Saturday at the Eagle Bay Brewery (unsurprisingly located in Eagle Bay, just past Dunsborough). It was good. Real good. Bette Midler wind beneath my wings type good.
Read more below.
Food
Believe it or not, the food wasn't the highlight, but I tend to structure these reviews in the same way and so let's begin as we usually do.
We started with a vegetarian tasting plate, which included a variety of roasted vegetables, rocket-like salad and flatbread with some kind of pesto stuff on it.
Overall we all thought the starter was pretty decent, but not nearly enough for six people (which is cool, we could have ordered another had we known).
Frustratingly, however, the tasting plate comes out with a whole heap of dipping like stuff and not nearly enough flatbread to dip.
You restaurants need to wise up to this mistake - you're nearly all making it. You're leading us into an introspective moment, where we have to consider, 'am I really the kind of person that will publicly scoop my finger into the hummus dip?'
I nearly always discover that I am that person, and I end up resenting the restaurant for reminding me and for forcing me to share my secret shame with the rest of the dinner party.
Are the flatbreads the overwhelmingly costly item on these dishes? Will the restaurant's budget start to buckle if people begin to send these plates back with excess bread on them? I don't know and don't care. I'd like to see a restaurant take that risk!
Soon after I had cleaned off the dips (and my bare hands!) the mains followed. Mr. and Ms. Foodie ordered the Ploughman's Platter (to share) and Marmite went with the Squid and Chorizo Salad.
I thought the Ploughman's looked really average, to be honest. It seemed rustic to the point of insufficient. However, Mr. and Ms. Foodie both loved it. Mr. Foodie works as a chef and so I always suspect he has a deep seeded sympathy for the kitchen, but Ms. Foodie can be a cold hearted cut-throat with her opinions and even she liked it. I'm not 100% sold, but I didn't try it and so I have to go with their recommendation.
Marmite loved her salad - really loved it. I tried some of the squid and it was quite impressive. Again, a dish that comes recommended.
Both Midnight Oil and I ordered the Burger and Madam Rabbit ordered the Lentil Fritter dish.
When it came out, I thought I was going to be a bit disappointed with the burger but when I ate it I found it to be very satisfying. I'm not sure if it's the freshness of the components or the simplicity of aoili+meat+salad+bread formula or what, but I really enjoyed the meal. Midnight Oil concurred.
Madam Rabbit's Lentil Dish was all kinds of crap. It's shit to look at and from what I understand it was really poor to eat as well. Madam Rabbit didn't even complain that much, I think she has been browbeaten by the state of vegetarian food in Perth restaurants and simply doesn't expect any better, but she hit the communal chips pretty hard and that's a sign her dish wasn't great (or that we're all on holiday - uncertain).
We ordered desserts (for the sake of the review - you understand) but for some reason I only took a photo of the Rhubarb Cake.
Both desserts were simply ok. Quite a let down from most of the mains (and a slight improvement from the lentil ... thing... they served us). I would describe the two desserts as completely skippable.
Drinks
I wen't with the paddle! I finally did it and got the paddle! Hoorah! I've been wanting to do the paddle for the last few breweries and finally did it.
Ugh, I wish I didn't do the paddle. They look so impressive and fun, but I've had beer before. I know what beers I like and what I don't. A paddle simply offers a mix of all beers, reminding you of all the reasons you don't like the beers you don't like.
Generally, I found the beers at Eagle Bay to be quite heavy. In fact, although we were there to have a lovely afternoon and none of us were driving home, I could only get through about 3 pints over the whole afternoon. Contrast that to the Monk where it would have ended at 5 or 6 without even really trying. I wonder whether perhaps the paddle as the starter left me struggling to enjoy my delicate pilsners later in the afternoon.
The paddlin' was fun, but not recommended.
Service
Service was very, very good. Attentive, friendly, good-looking to boot.
Everyone was smiley and I feel as though it's a result of living in such a fantastic location, with much less stress than the big-smoke Perth.
Amenity
Here is where we get to the money maker.. the Eagle Bay Brewery is simply gorgeous. It cannot be overstated how wonderful the place feels, especially on a beautiful day like the day we visited.
Those who know me and have followed a few of the other reviews know that I'm pasty white and don't handle the sun well. The Eagle Bay Brewery has plenty of shade for you to sit under while you look out over its sunny fields. It's classic rural, coastal South West really.. with a dam and forest-like-scrub and even the Indian Ocean sitting just behind over yonder. It's like the setting of all your favourite Grand Designs (Kevin McCloud version, obvs) projects turned into an Australian landscape.
I imagine Kevin would say something like '... the luscious green fields carpet a landscape that wrestles against an infinite blue sky. Surely, beer that comes from such a magical place as this can cure all ailments.. but who could imagine anyone could suffer from anything at all, when everyday, they awake, to this...."
An extra nice touch is just outside the main dining area, where the Brewery have set themselves up a little vegetable garden and scattered fruit trees (I couldn't call it an orchard - at least, not just yet).
I can't imagine the veges here are enough to sustain the kitchen, but they contribute to the wholesome feel to the place.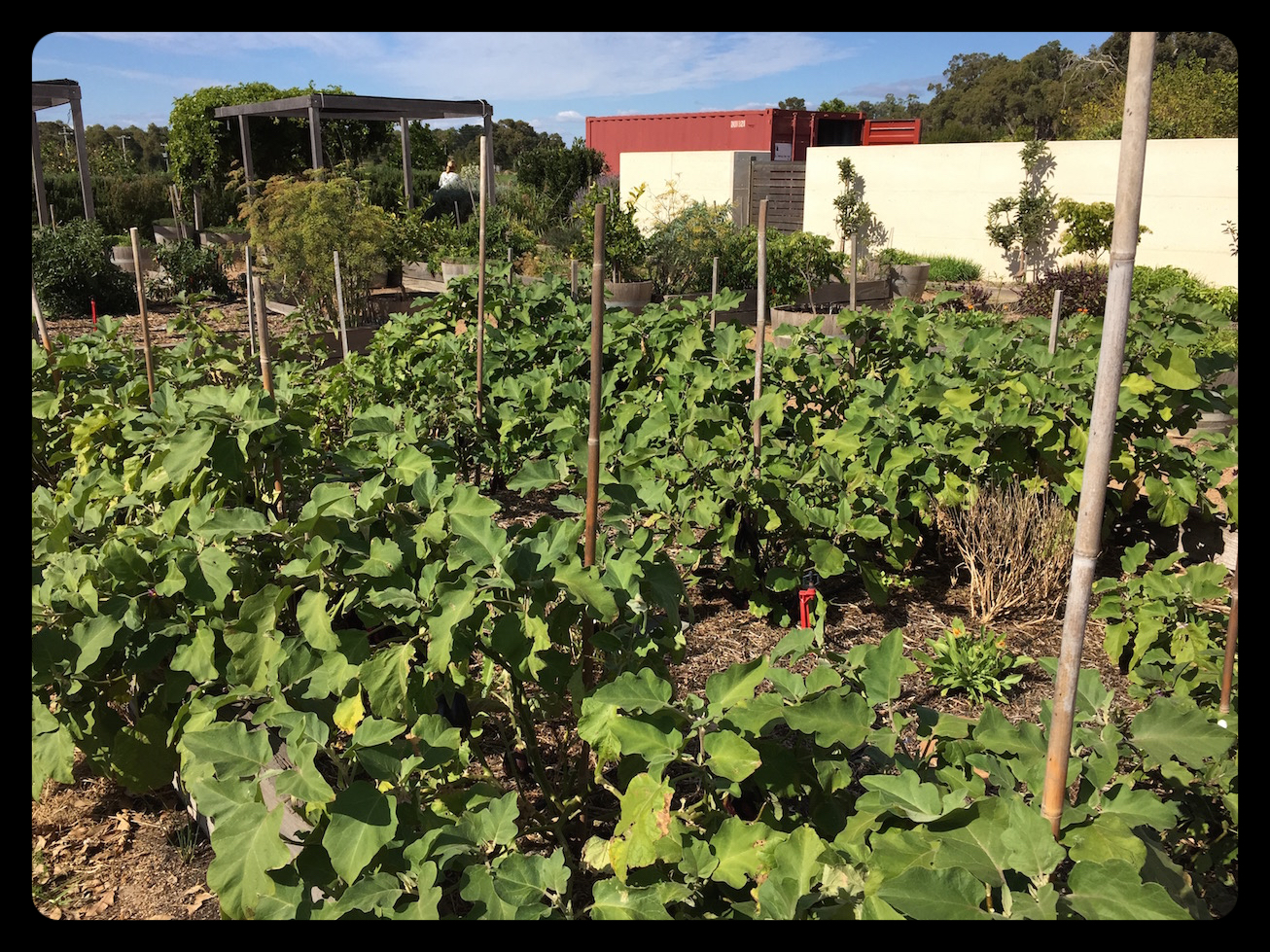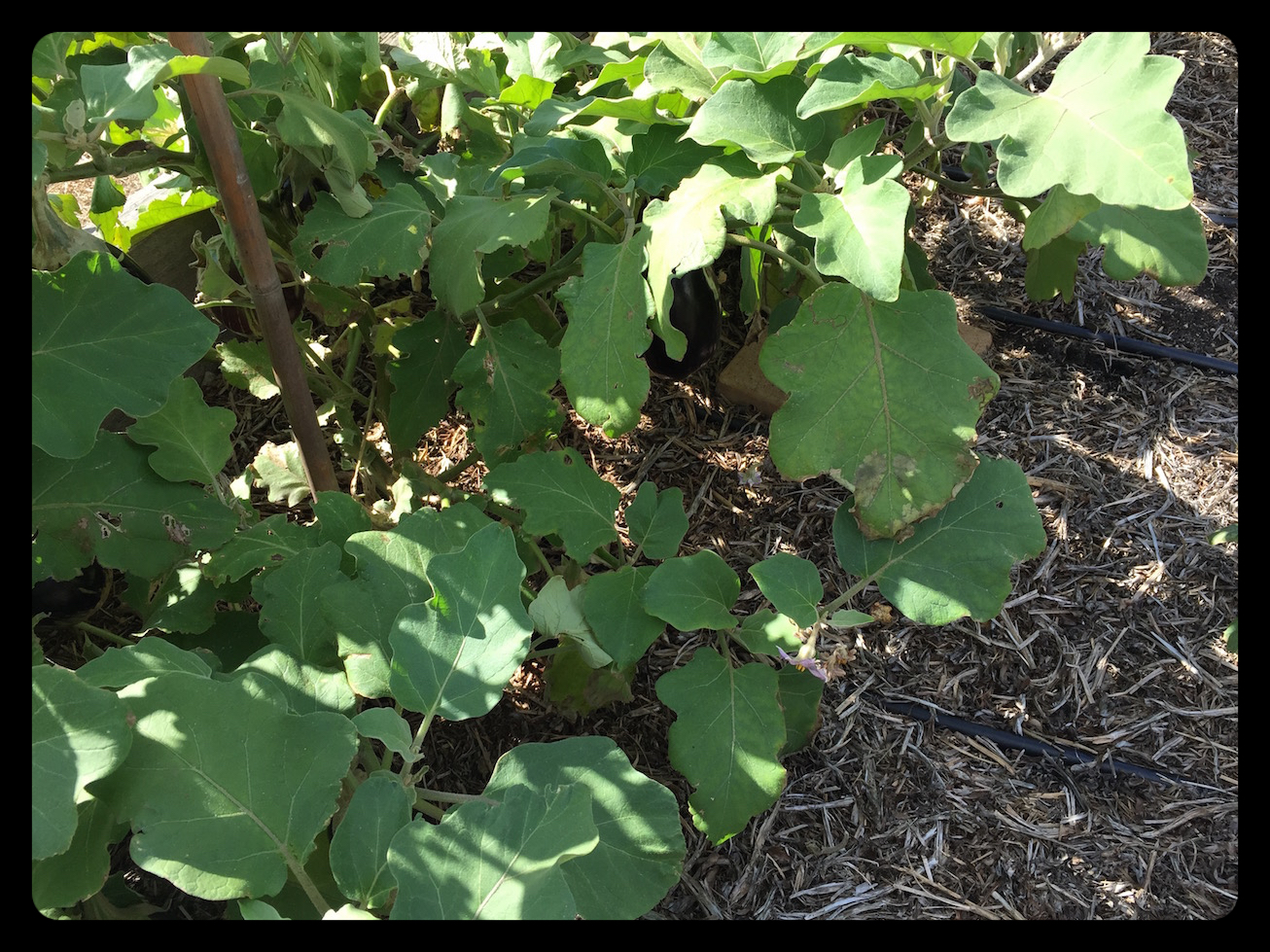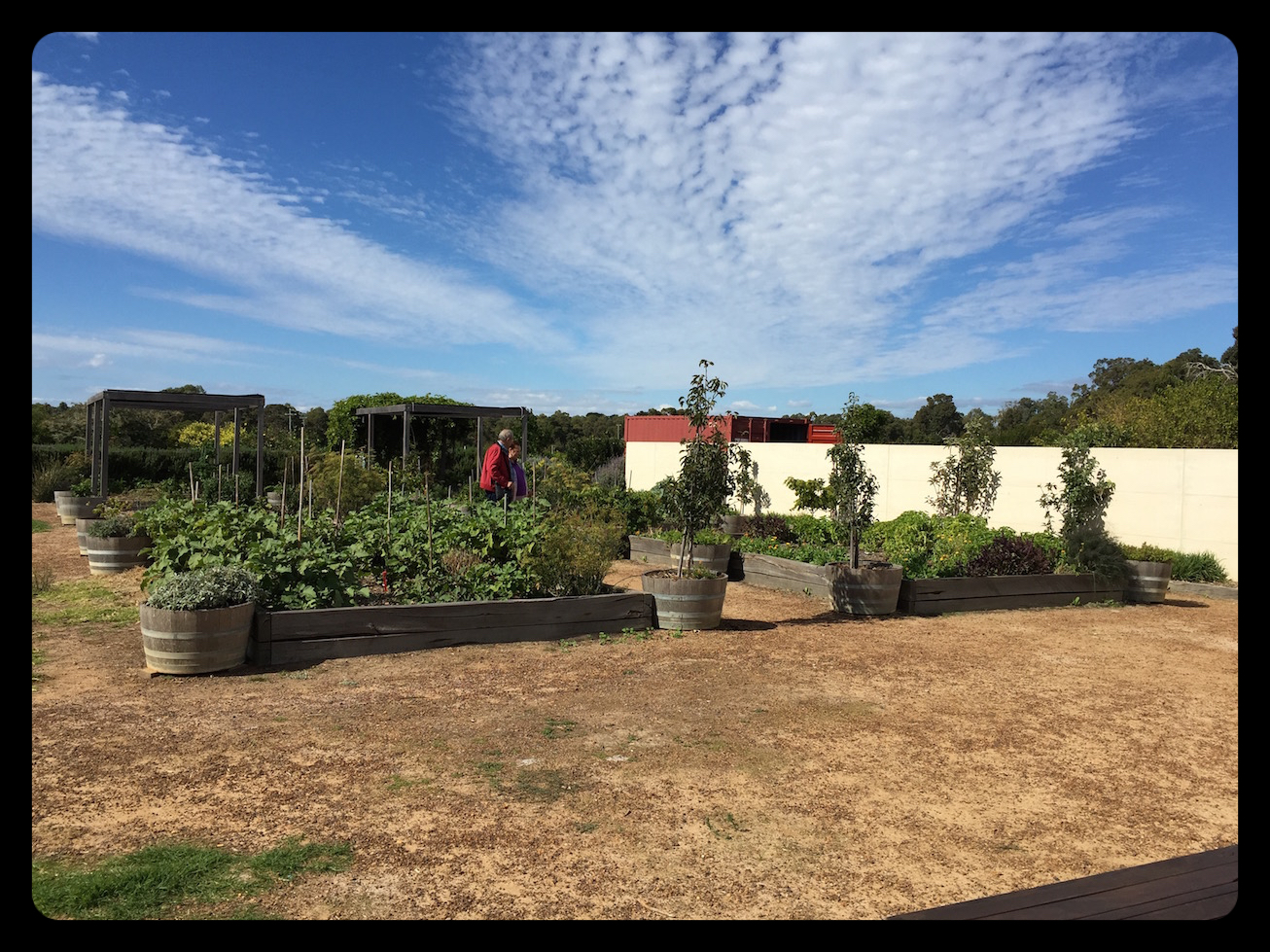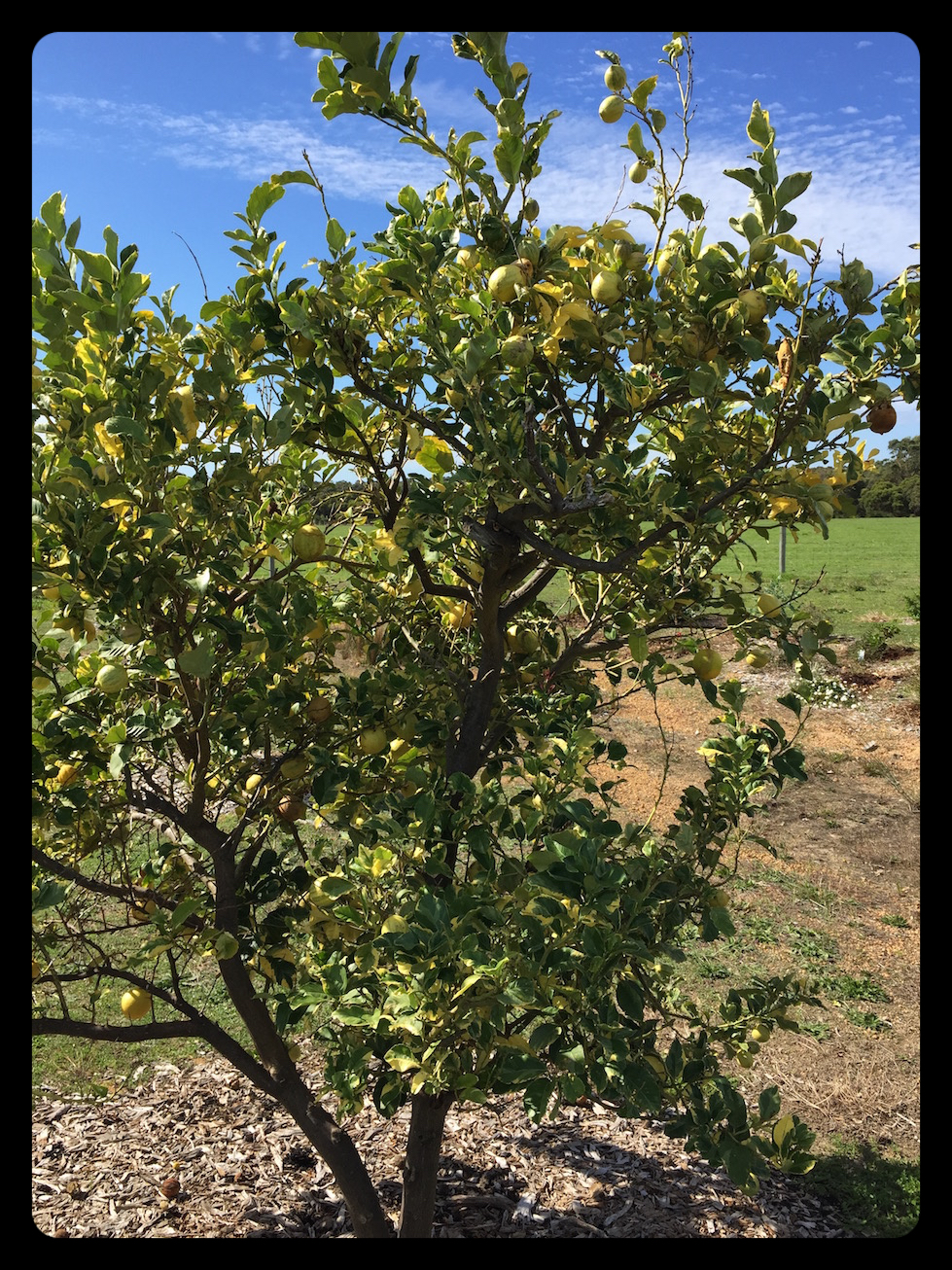 Overall
Any misgivings we had towards the food were easily soothed with the stunning and sublime atmosphere. However, as I write this review, under fake light and on a repurposed office chair, the flaws stand out a little louder. If these reviews are meant to be evaluation of our 'dining experience' then I can say we all had a wonderful time. Yes, they should be serving us up more bread and yes that Lentil monstrosity needs to be replaced with something a bit more enjoyable, and yes I even struggled to get through as much of the beer as I ordinarily would have happily guzzled, but there's no doubt we rolled out of the Eagle Bay Brewery with smiles on our faces and positive things to say.
Because I'm capricious, though, I'm half-minded to take a few points off for being so far away from Perth (4 hours drive on a long weekend, with traffic). But then, if it wasn't at least a little bit hard to get to, I'm guessing the people there couldn't continue to be as happy.
Overall, loved it. Loved the Eagle Bay Brewery, and I hope to return soon.
8 paddlin's out of 10